Home
8 Tips for managing bipolar symptoms at work
8 Tips for managing bipolar symptoms at work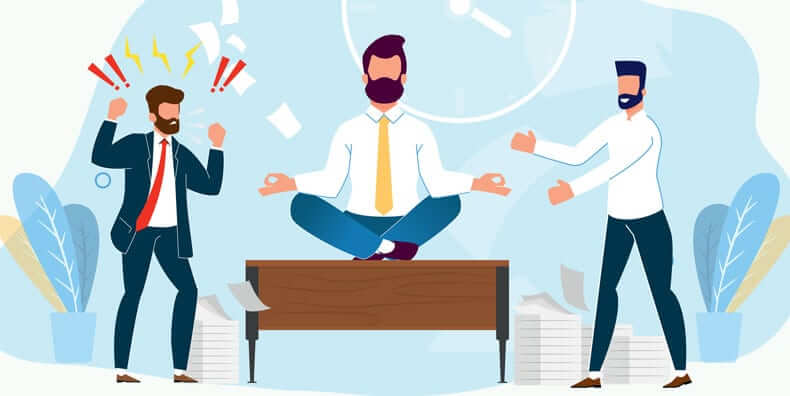 It's not always easy to keep up with the demands of work when you're living with bipolar disorder. Knowing how to manage the highs and lows can help you feel more confident and in control of your health.
Here are some ways to manage bipolar symptoms and thrive in your workplace.
1. Follow your treatment plan
It's important to keep up with your treatment plan and medication, even if you're feeling great. Keep all your appointments and check in regularly with your healthcare team to make sure you're getting the treatment you need.
It can be really helpful to monitor your mood with an app or chart. Record changes in your mood daily, as well as how much sleep you got, any major stress factors at work or any side effects you experience from medication.
2. Manage stress
Work stress can have a negative impact on your mental health, so it's important to have strategies in place to help you cope when things get busy or overwhelming.
Take breaks regularly at work, even if you don't feel like you need it. Using mindfulness and breathing exercises can help you feel more relaxed.
To avoid overcommitting or taking on too much, try not to say "yes" to things straight away. Instead, say something like: "That sounds good, but I have to check my diary first." That way you have time to consider if it's a good idea to take on the task.
Don't be afraid to reach out for help or take time off work if you need to. Keep the communication open with your support network.
3. Create healthy routines around sleep
Along with eating healthily and staying active, getting enough good quality sleep is one of the most important things for overall health.
Bipolar symptoms can cause difficulties with sleep, and lack of sleep can make bipolar symptoms worse. Creating a healthy routine around sleep may help improve mental well being and overall health.
Aim to go to bed and wake up at the same time every day. If you have trouble going to bed, set a reminder on your phone half an hour before you want to be in bed. Do a relaxing activity such as colouring, reading or stretching before bed time.
Avoid using screens before bed time and keep your caffeine intake low, especially in the afternoon and evening. Reduce the amount of light, noise and other disruptions in your bedroom and try not to use your bed for anything but sleep.
4. Avoid alcohol and drugs
Alcohol and drugs that aren't prescribed by your doctor can increase your risk of mood swings and depression.
If you find it hard to steer clear of alcohol and other substances, consider joining a support group or finding a community that isn't based around drinking. Having others around you who understand and support your journey can help.
Instead of heading to a bar with your coworkers, suggest a local ice-cream place or bakery instead. You don't have to tell people why you're avoiding alcohol, but it may help to have answers ready like: "I'm cutting back for my health" or "I feel better when I don't drink".
5. Have a crisis plan
Planning ahead can help you better manage symptoms and low mood swings when they happen.
Write down your plans for how to care for yourself, including things like sleep routines, how to manage high and low moods and who to call for help if you need it.
Give a copy of your plan to your doctor and people in your support network. Include a plan for what you will do to manage low moods and suicidal thoughts.
6. Introduce structure and routine
Having structure in place at work and home can help you feel more stable and in control.
Developing a schedule that works for you can take time and it's important to review how you're going and adjust if you need to. Don't forget to factor in time for rest.
It's important to try and stick to your routine, even when you don't feel great as it can be a positive stabilising factor.
Schedulers, task apps and to-do lists can be helpful tools for creating structure. Setting up timers and alerts can also help with staying on top of work tasks.
7. Request workplace adjustments
Changes in your workplace environment or your job tasks could help make it easier to manage at work.
In Australia, employers are legally required to make reasonable adjustments to help their employees do their job well and safely.
Workplace adjustments could include things like time off for therapy, periodic rest breaks throughout the day and redesigning your workspace for better concentration.
If you are struggling to manage at work but aren't sure what changes would help, you can request a professional workplace assessment to help you identify possible solutions.
8. Ask for help if you need it
If you're finding it hard to cope in the workplace or are having trouble finding a job, support is available. Don't be afraid to ask for help if you need it.
You could be eligible for the Disability Employment Services program, a government funded program which helps people like you find work and succeed in the workplace.
The Disability Employment Services program can help with finding jobs for people with disability, including mental health conditions such as bipolar disorder. Providers of the program can also help you access workplace accommodation and other supports you need to thrive in your job.
It's not always easy to find a job or continue working with bipolar disorder, but with the right support in place, you can succeed in the workplace and take control of your career.